И еще одно замечательное трио, непобоюсь этого слова, Гранды великого Транса Above & Beyonds

Above and Beyond - Trance Around The World 216
guest Bobina
(16 May 2008)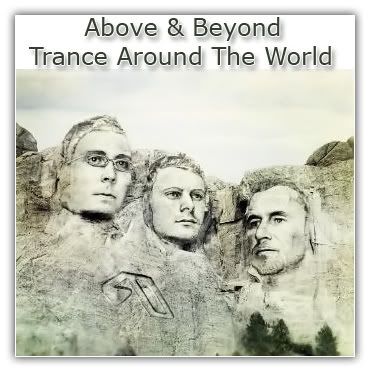 Tracklist:
01. Andy Moor "Fake Awake" (AVA)
02. Snow Patrol "Open Your Eyes" [Kai Jee Remix] (CDR)
03. Myon and Shane 54 Pres. The Black Army "Not A Lot Left"
Record Of The Week
04. Anhken "Transport" (Anjunabeats)
05. Darren Tate "On The 7th Day" (Mondo)
06. Marc Marberg with Kyau and Albert "Neo Love" (Euphonic)
07. Solarstone "Spectrum" [Duderstadt Remix] (Solaris)
08. Nitrous Oxide "Cornflake" (Anjunabeats)
09. Datt and Bissen feat. Tiff Lacey "Take You" [Martin Roth Nu-Style Mix] (Flux Delux)
10. Jaytech "Groovenova" (Anjunadeep)
11. Mike Foyle "Pandora" [The Blizzard Remix] (Armind)
Web Vote Winner
12. Super8 and Tab - Elektra (Anjunabeats)
13. Plastic Boy - Rise Up (Captivating)
14. Jon O'Bir "Ways and Means" [Paul Van Dyk Remix] (Vandit)
15. Tritonal "Lights Over Austin" (CDR?)
16. Orjan Nilsen "La Guitarra" (Original Mix) (Armind)
Guest mix Bobina
1. Bobina feat. Tiff Lacey - Where Did You Go
2. Morandi - Angels (Bobina Megadrive Dub)
3. Marco Torrance - Stranded Feelings (Bobina remix)
4. Oakenfold Ft Onerepublic -Not Over (Bobina Megadrive Dub Remix)
5. Bobina - Invisible Touch
Добавлено (24.05.2008, 12:41)
---------------------------------------------

Above & Beyond - Trance Around The World 217
(23-05-2008)
Tracklist:
01. Super8 & Tab - Elektra [Anjunabeats]
02. Krivi - Reliving Those Years [CDR]
03. Stan Void - Airlost [CDR]
Record Of The Week
04. Kiholm - Fragile (Daniel Kandi Remix)
05. Myon and Shane 54 Pres. The Black Army - Not A Lot Left
06. Kimito Lopez - Melkweg [Intuition]
07. Daniel Wanrooy - Avalanche (Original Mix) [Spinnin']
08. Sundriver - Feel (Underwater Remix) [Red Force]
09. Tri-Tonal - Lights Over Austin [CDR]
10. Dan Stone - Seven Hours (Mark Pledger Remix) [Noys]
11. Orjan Nilsen - La Guitarra [Armind]
Web Vote Winner
12. Ankhen - Transport [Anjunabeats]
13. Andy Moor - Fake Awake [CDR]
14. Matt Cerf & Envolio feat Jaren - Walk Away (Lange Dub Mix)
15. Jaytech - Groove Nova [Anjunabeats]
16. Darren Tate - On The Seventh Day [Mondo]
17. Johan Vermeulen - Do Not Cross [Anjunadeep]
Jay Lumen Guest Mix
01. ID - ID
02. Paul Van Dyk feat Rea Garvey - Let Go (Emanuele Esposito Remix) [Vandit]
03. ID - ID
04. Jay Lumen - Calypso [Anjunadeep]
05. ID - ID
Ссылки Уа-Их:
filestore